Let's face it, when you're suffering from eczema, the discomfort is enough to drive anyone up the wall. But fret not, eczema is more common than you think. It commonly affects children and infants (it's shocking to see your baby with eczema) but the condition can also persist into adolescence and adulthood. Like most people, eczema is unique to the person that it affects. Causes of eczema include genetics, external irritants (like perfume or fabrics) or even the environment. However, one common aspect of eczema is that it causes dry, itchy and irritated skin that's prone to discolouration, flaking, cracks and other uncomfortable conditions. So how does one cure eczema or pick the right eczema treatment? We've narrowed down 4 eczema-fighting creams from Rosken that can help: 1. ROSKEN AD PROBIOTIC CREAM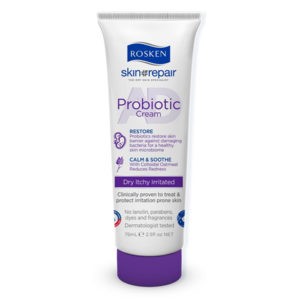 This cream tops the list thanks to its main ingredients: Probiotics and Colloidal Oatmeal. This powerful, natural formula restores the balance of good and bad bacteria on the skin, reducing flare-ups and discomfort. Plus it binds and locks in moisture to provide soothing relief that's also effective. In 2 hours, your skin will have double the moisture, improving your skin's appearance and reducing discomfort.
2. ROSKEN DRY SKIN CREAM
3. ROSKEN DRY SKIN WASH
4. ROSKEN BIO SERUM
No matter how eczema affects your skin, everyone deals with it differently. Choose a product that's formulated to treat dryness of the skin, or improves the natural moisture level of your skin. Which of these products will you try?